This post may contain affiliate links. If you make a purchase through one of these links, we may receive a commission at no extra cost to you. Please read our affiliate disclosure and privacy policy for more information
City trip by train to Aachen: visit the Christmas market, museums, …
Looking for a nice city trip for a few days or a weekend away? Then definitely go to Aachen in Germany! We went there by train from Belgium, for 2 days, 1 night, and had a fantastic time!
Aachen is a city in western Germany, at the border triangle, near the border with Belgium and the Netherlands. The city is therefore very easily accessible from all three countries.
As a visitor there is a lot to do in Aachen. For example, you can explore the historic old town, admire the cathedral, visit a museum or relax in one of the many parks and gardens. Or maybe you come for the thermal baths or the Christmas market (like us)?
Enough reason to go to Aachen! In this article, we tell you everything you need to know to plan your weekend in Aachen and how you can get there by train.
Why a city trip to Aachen by train
Aachen is very easily accessible as it is located near the border triangle between Belgium, the Netherlands, and Germany. Many of us are going by car. Which is ok. But have you ever thought about opting for the train?
We love traveling (internationally) by train. First and foremost, of course, it is a much more sustainable way to travel between countries than by car or plane. And in Europe everything is very close together.
Moreover, you have no parking problems or traffic jams, and you can relax completely on the train. Reading a book, playing a board game, listening to music, or watching landscapes, everything is possible.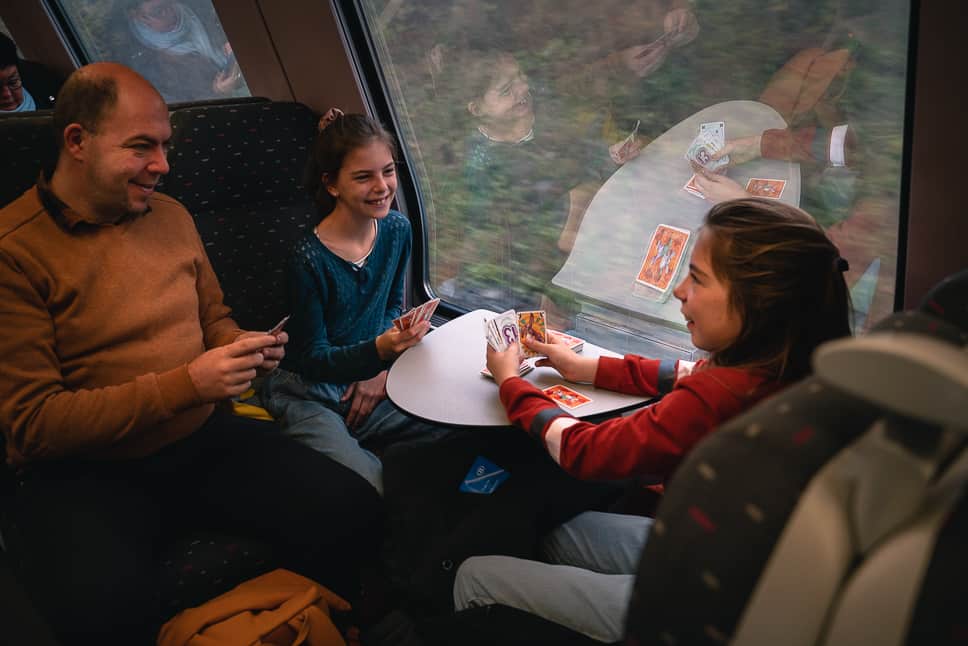 Finally, in Germany, you are also obliged to have an environmental sticker in certain cities. Aachen is one of them. So if you want to enter the center with your car, you must order an environmental sticker in advance. Something that you are spared when you go by train.
As you can see, we are big fans! We left Belgium and 2 hours later we were already in the center of Aachen, something that would never have been achieved so quickly by car.
Would you also like to travel to Aachen by train? Then check your tickets from Belgium to Aachen here.
What to do in Aachen
Aachen is known for its Roman and medieval history. The city was founded by the Romans in 16 BC and was the capital of the Frankish Empire in the 8th and 9th centuries. It was then the residence of Charles the Great (Charlemagne in French) and he also died here.
Today, Aachen is a lively university town with plenty to do. You can wander around the picturesque old town, admire the architecture of the historic buildings, shop in the cozy boutiques, visit museums, enjoy good food and just enjoy the nice atmosphere.
Below is a brief overview of what to do in Aachen. For a complete overview, read our article with the best things to do in Aachen.
Aachen Cathedral is one of the most important Gothic churches in Northern Europe. It was built in the 9th century and is the oldest cathedral in Germany. This medieval cathedral is beautifully decorated inside, a feast for the eyes.
In the car-free shopping area around the Marktplatz, there are a large number of shops and restaurants. Wonderful to stroll around here, admire the town hall and the cathedral, walk along the fish market, …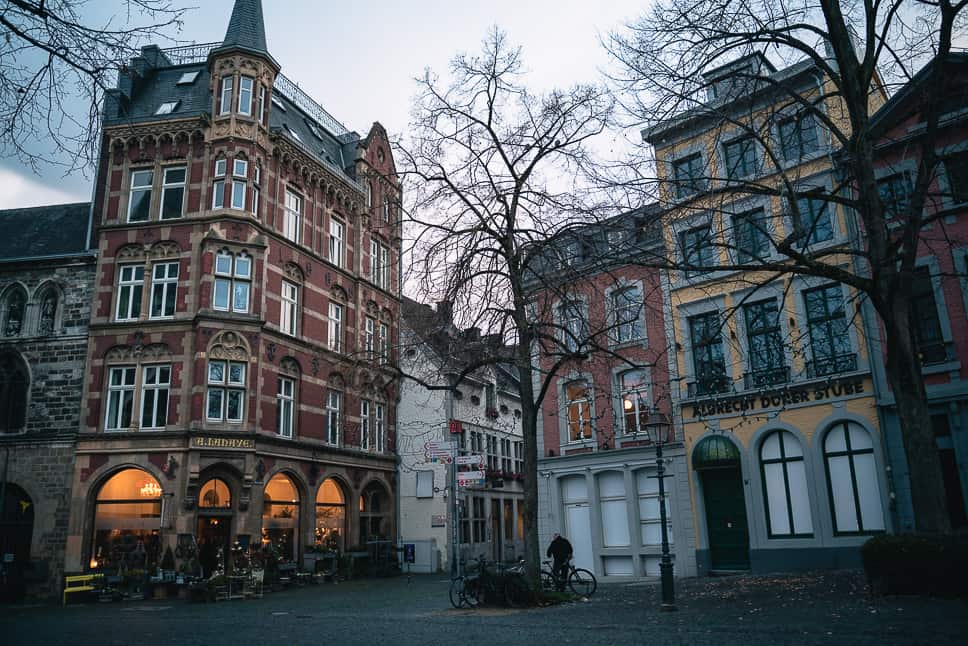 The city is also known for its thermal springs, which have been used for spa and medical purposes since Roman times. At Elisebrunnen you can feel the warm, sulphurous water yourself. Or you can go to the Carolus Thermen. Enjoy the healing water and relax in one of the many saunas and steam baths.
Aachen also has several excellent museums, including the Center Charlemagne (the renewed city museum), Couven museum, and Newspaper museum, …
From mid-November to December there is of course also the Christmas market. The German Christmas markets are known all over the world and the Christmas market of Aachen is definitely worth a visit! It is one of the nicest Christmas markets in Germany.
A more active day could include exploring the outer limits of Aachen's hinterland on a hike or bike ride. The three-country point (15 minutes outside the city) is also a nice trip.
Where to sleep in Aachen and eat
In Aachen, you can find many nice places to stay, from cheap to luxurious, from large to small boutique hotels.
We stayed at Novotel Aachen, a short walk from the old center, and we can highly recommend it. Friendly staff, a delicious and very extensive breakfast, spacious rooms, and even own a gym and steam bath.
Check out all other accommodation options in Aachen here. If you travel by car, keep in mind where your hotel is located and whether you need an environmental sticker for the low-emission zone.
There is certainly no shortage of places to eat something delicious. We went for dinner at Zum Postwagen, located right in the old center near all sights. The food is very tasty and affordable.
For a quick bite, we can also recommend the sandwiches from the Moss bakeries. You can find them all over the city.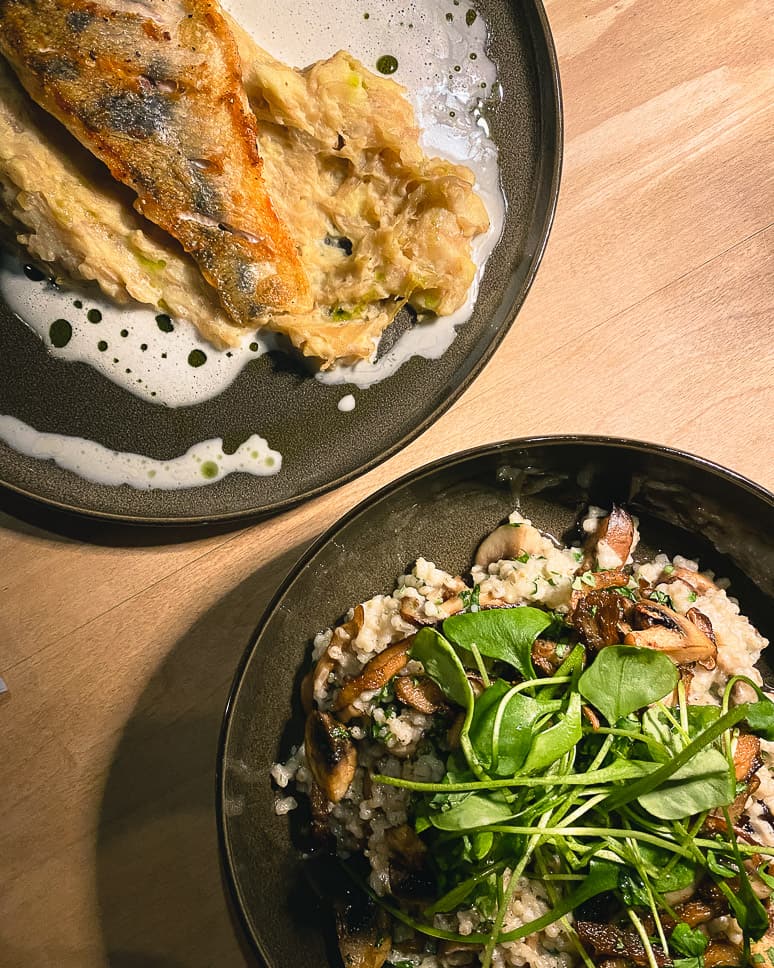 Do you have any questions? Please let us know!
Have fun (with the train) in Aachen!
Other articles that might interest you
City trip Aachen