This post may contain affiliate links. If you make a purchase through one of these links, we may receive a commission at no extra cost to you. Please read our affiliate disclosure and privacy policy for more information
China is a stunning country, and you should definitely take a couple of weeks or more to discover the place. The downside, however, is the fact that a Chinese visa is quite expensive and sometimes a hassle to get. You have to apply for the visa well upfront, and need to present a travel schedule with all your flight, accommodation and train bookings.
You can cancel them afterwards of course and follow a different route, but it still is a time consuming and expensive process. Luckily, they have also something called a transit visa. Entering China on a transit visa allows foreigners to arrive in a few cities and surrounding areas without a visa. You can stay there for a couple of hours or days.
What is a transit visa?
Since a couple of years, China has made the life of international travellers a bit more easy. The country allows foreigners from 51 countries to enter China without a regular Chinese visa. There are actually 3 different kinds of transit visa: 24 hours (1 day), 72 hours (3 days) and 144 hours (6 days).
The only way to get a transit visa like this is if you continue your travel to a third country or destination. You have to show your pre-booked ticket as proof of that and the visa for that country if needed. That means you can not return to the same country where you came from.
A simple city trip to Beijing coming from Japan and returning there is not possible. Further on, you need a valid passport that is still valid for the next 3 months from the moment of arrival. And of course, you will need to fill in the arrival and departure forms (read more about that in this article).
Understand the difference between the different transit visa
Unfortunately, the rules for the different types of transit visa aren't the same. So what should you know? We made a short summary for you in the table below.
How to get a transit visa in China?
What you should plan ahead
First of all, you don't have to prepare anything before flying to China. Or at least, not what the visa itself is concerned about. You do have to book the place where you will be staying and your ticket out of China. There are very strict about that, so make sure you have all the information with you, preferably printed out. And with all the information, we mean everything.
The address of your stay, the phone number of your Chinese contact or hotel, the plane tickets of your flight out, … Also, don't forget you can only apply for the visa if you are travelling to a third country. That means you can not go back to the same country you came from.
On the day you go to China
Just go to the airport and check-in. At the check-in desk, where you have to show your tickets and passports, you let them know you want to enter China on a transit visa. Or they will notice once checking your passports, as they won't find a regular Chinese visa in there. As mentioned above, you will have to show them how you will leave China again. Show them your plane tickets. And then you can just board and enjoy your flight…
When we left Brussels, they entered our names on a special list. This list was sent to the airport of our arrival Shanghai, so they already knew over there we would enter China on a transit visa. We are not sure they always to that.
On the plane, they will give you some forms to fill in. You don't have to do that, as you will have the same form as the normal visa. Ask the stewardess on the plane if they have the forms for a transit visa. We didn't know there would be a different one, so we didn't ask on the plane. But maybe they have, and it will save you some time once you arrive at the airport.
When you arrive in China
Once the plane has landed, you will have to follow the signs. Foreigners entering the country on a regular visa will normally have different cues than the ones entering China on a transit visa. When we landed, however, very early in the morning, the special desk for transit visa was closed and we had to line up in the regular cue. As they tend to be a little difficult in China when entering the country, the cues were very long and they didn't move quickly.
A good tip is to first inform someone you are entering the country on a transit visa. You don't want to make our mistake, which was waiting for a long time in a cue. And then find out they want to send you to another desk with again a long cue.
And even worse, when you reach the person at the desk, they want you to fill in another form than the regular one you got on the plane. You have to fill it in on the side and then wait again. So to avoid this, you either ask on the plane for the right form, or you ask one of the people in the immigration area to get it before you wait a long time.
When you have filled in the right form, wait in the cue at the right desk until it is your turn. The officer of the immigration service will ask you all kinds of questions. So make sure you have all the papers with you about where you stay and how you leave the country again.
Luckily, our names also appeared on the list they had sent from the airport of our departure. They took our passports and all the information and let us wait for another 20-30 minutes. And then we finally got to enter China.
During your stay in China and when you leave the country again
When your passport is returned to you, there will be a tiny form between the pages. Make sure not to lose it, as it isn't attached to your passport. You will have to fill in this form when you leave the country. And read it carefully, or you will be fooled like we were.
You would think once you enter the country and are one your way to your accommodation, nothing else needs to be done just until you leave again. Unfortunately, we didn't read the tiny letters on the immigration form. Every foreigner entering China needs to inform a local police station of their address of stay in the country. When you stay at a hotel or guesthouse, they will inform the police station.
However, if you are staying in an Airbnb or with friends as we did, you need to go to the police station yourself. That is if you don't want a visit from a police officer at your door after two days. Normally you get 24 hours to do so, but we didn't get any trouble for being late and got the registration form in the end.
When you leave the country, the process is luckily much smoother. You just show the little form, you get a stamp and you can leave the country. Be sure to have your travel info with you, as they also may ask if you won't be entering the country again soon.
What were our experiences?
Getting a transit visa is definitely a good way to enter China without the cost and hassle of getting a regular visa. Especially for businessmen, travellers on their way to other destinations, sportsmen or people who want to attend a congress. When you apply for the 144 hours visa, it allows you to taste a little bit of China as 4 or 5 days is just long enough to get the vibe and visit some places.
On this visa you are also allowed to move freely in a certain region, so you don't have to stay just in Shanghai or Beijing for example. You can also visit the famous water towns or the Great Wall.
Make sure you stand your ground, as not everyone is always perfectly informed about the regulations. When we left Brussels, the person at the check-in desk didn't know about the 144 hours visa. She told us that was not possible and we couldn't get a transit visa. We started to stress already, not a good start to our long term trip. But we're quite sure we read that is was allowed. Luckily a friendly person on the desk beside us told her he was sure. And then she called her supervisor who confirmed it. So we could proceed with the check-in procedure.
The process itself works quite well but is a bit of a hassle. We had to wait for a long time in cues and at the immigration desk. It wasn't always very clear that we needed another document for example. Also, you do get the feeling they would rather just don't have you in their country. But anyway, we succeeded and it was worth the trouble, as we got to visit  Shanghai. And as we are travelling on a budget, it was nice we got a taste of China without paying the expensive regular visa.
If you have any questions or experiences of your own, please leave us a comment!
SHARE ON PINTEREST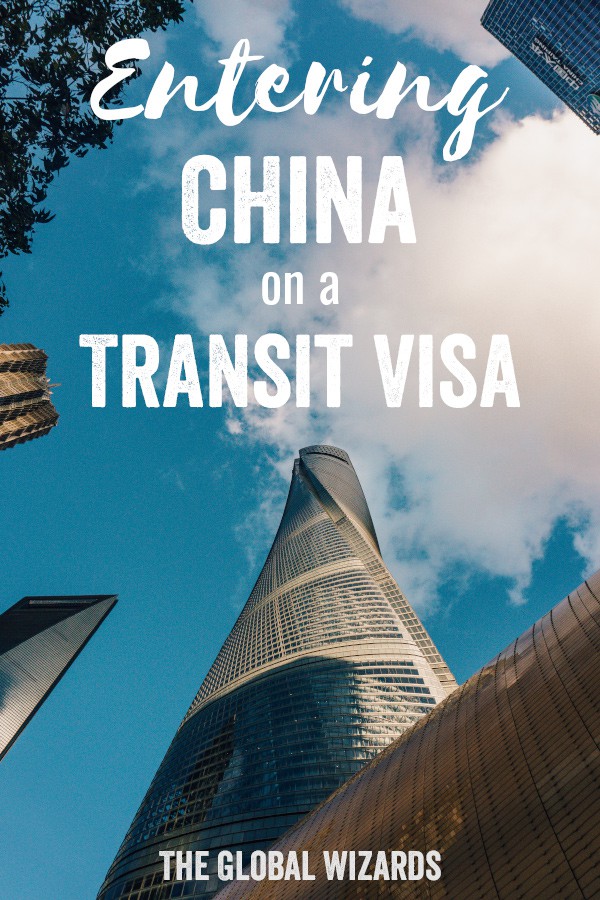 Other articles about China