This post may contain affiliate links. If you make a purchase through one of these links, we may receive a commission at no extra cost to you. Please read our affiliate disclosure and privacy policy for more information
Bako National Park is situated in Sarawak, the southern province of Malaysian Borneo. It is one of the oldest and most beautiful national parks of Malaysia, with its lush rainforest, stunning wildlife, tropical beaches and exciting walks. It's home to the proboscis monkey, who sadly is an endangered species.
If you come to Borneo, you should definitely plan a visit over here. It has been one of our top experiences in Borneo. And the good thing, it is perfectly suitable with kids as well! So no more reasons not to go! In this guide, we'll tell you everything you need to know about when to go, what to take, how to spot the wildlife and so much more!
Plan your stay in Bako National Park
How to get there?
Bako National Park is situated near Kuching, the biggest city of Sarawak. Kuching is a great base to plan your trip to Bako. We stayed at the Singgahsana Lodge , where we had a great stay with our kids. In our lodge or many other places in Kuching, you could book tours to Bako National Park. But, as we are travelling on a budget, we decided to arrange our visit ourselves.
Read more: The ultimate guide to family travel on a budget
There are no roads that lead straight to Bako National Park. The Malaysian government wants to protect the park, so it is only reachable by boat. First, you need to take a bus or minivan from Kuching to the Bako National Park jetty and then a boat to the entrance of the park. If you are on a day trip, don't underestimate the time it will take you to get there. Especially if you want to arrive early before the heat sets in.
The first step: take the bus from Kuching to the Bako National Park jetty
The bus leaves every hour, from 7 am at the Kuching bus station (the people of your guesthouse will show you the way), and costs RM3,5 per person. If you miss the bus, don't worry! There are lots of people driving a minivan, willing to drop you off at Bako for RM 5 per person. We even had a minivan passing by, telling us that the bus wasn't driving that day (sure ?). But we took it anyway because you get there faster, it doesn't cost that much and it was easier with the kids.
To get back, it could be you have to wait for a while. We waited for almost an hour until the bus arrived, and there weren't any minivans around or they were overcharging! Luckily we could sit down at a local bar and give the kids a drink and a snack.
It is also possible to book a tour from Kuching.
Second step: take the boat from the jetty to the entrance of the park
When you arrive at the jetty, it can feel a bit chaotic. Things you need to do are buy the entrance tickets (RM 20 per person, RM 7 for kids) and a return ticket for the boat brought to the park (RM 25 per person). If you want to book a guide for the park, you need to arrange it here! The guide will accompany you on the boat to the park. During the dry season, the sea is often calm, during monsoon it can get quite rough. We went in October and the way to the park was OK, but when we returned hit a turbulent sea! No worries, however, the boatmen are used to this.
Day trip or overnight stay?
A lot of people go to Bako National Park for only one day. We can highly recommend staying one or even two nights. On a day trip, your chances of seeing the wildlife decrease substantially. During the day it can get really hot and humid and a lot of animals like to hide. However, in the early and late hours, you'll see plenty of monkeys and other wildlife!
If you have to go back the same day, you have to leave at 3 pm, the time of the last boat. So no chance of catching the cooler hours. When you stay overnight, you can also book a night walk! This experience was amazing and absolutely worth it staying for! We even saw fireflies and an amazing sunset!
Book your accommodation in Bako National Park
If you want to sleep in the park, don't forget to book ahead (click here to book). The site can get stock sometimes (it did on our credit card), but if you're persistent and wait for a bit, you'll get through. It can get fully booked quite quickly, so plan early enough. Especially when you travel with kids or friends and you need multiple beds.
We could book a room for four, which was perfect for our family! We paid RM 80 (RM 20 per person). Don't expect any luxury, it's very basic. There are a few rooms with aircon, which are a bit more expensive. Sleeping in the jungle, however, was definitely a great experience for the kids and ourselves. One side note, we had bed bugs in the room! So check the beds before you go to sleep and use your own sleeping bags. You can even camp in the park for RM 5 per person!
Find a guided tour in Bako National Park
Food and drinks in Bako National Park?
First of all, there aren't any shops around in Bako. There is however a basic restaurant where you can buy local meals, breakfast and drinks, buffet style. We actually quite enjoyed the food, even the kids liked it and it's not expensive at all.
But we do recommend to bring some snacks of your own and even a few bottles of water or soda. There is no fresh drinking water available except for the bottles you can buy in the restaurant. The food is reasonably priced, the drinks, however, are a bit overpriced. You'll need lots and lots of water, as the humidity is very high here and there is a risk of dehydration. And a few extra snacks are never a luxury with kids!
One thing, however, you'll need to pay attention to are the macaques hanging around in the park. They can get quite aggressive, especially if you are carrying any food or bottles with you. Make sure everything is put away in your backpack where they can not see or smell it. If you're eating at the restaurant, better to eat inside.
When to go?
The best season to visit Bako National Park is in the dry season, which runs from March to September. The weather will be more pleasant and the sea calmer. From October to February, it is monsoon season. This doesn't mean you can't visit the park then, but there's a chance the night walks get cancelled because of the rain and you're in for a bumpy boat ride. We went in October, which is actually the start of the rain season. The humidity was very, very high. But besides that, we didn't have any consequences of the weather.
Book a guide or not?
First of all, as we mentioned before, if you want a guide, you need to book him at the jetty before you take the boat to the park. Except for the night walk, which is organised by the rangers in the park and can be booked there.
You don't need a guide to visit Bako National Park. The trails are well signed so you can easily plan your visit here without a guide. However, we do recommend to take one, especially with kids. It is not very expensive, and they know a lot about the park and its wildlife. But the most important reason is they'll spot wildlife much better than you can. Without our guide, we probably wouldn't have seen a lot of animals. We paid RM 200 (without the night walk) for a guide for a full day and a boat trip around the rock formations of the park.
Visiting Bako NP
Spotting wildlife in Bako National Park
One of the main reasons to visit the park is the wildlife of course! You can spot proboscis monkeys, who only live in Borneo. But also lots of other monkeys, snakes, spiders, beautiful birds, wild boars and all kind of insects and other crawlings creatures. The great thing is you have a good chance of spotting them, especially when you stay overnight. Photographers, don't forget a good zooming lens!
The proboscis monkey is, of course, one of the main reasons people come here. You can look for them during your hikes, but you actually have the best chance of spotting them around the headquarters. In the early morning, they like to hang around there. So we got up early and looked around. And then suddenly, we found a whole group of them, with a big male sitting right above us in the three! We looked at him for quite a while. The noise they make is so special, what a peculiar but amazing animal!
Different trails
You can walk through Bako National Park without a guide. The trails are all very well marked, with clear signs everywhere. You need to register yourself in the book at the headquarters, pointing out which hike you are doing. When you come back, you need to sign out again.
The shortest hikes are only a few kilometers, the longest can take almost a day. Always make sure to get back before sunset, otherwise, it could get dangerous. And don't forget to take plenty of water with you! You'll sweat way more than you anticipate.
With the kids, we chose the shortest walk which ends on a stunning beach. The good thing is you can go back by boat, passing all the great and famous rock formations, so you don't need to walk all the way back.
Night walk
If you're staying overnight, we can absolutely recommend the night walk! It was one of the best wildlife experiences we had. You can book the night walk at the headquarters with one of the park rangers. The normal price is RM 10 per person. You'll be joining a bigger group.
You can, however, also book a private guide, for RM 20 per person. Especially with kids, we can advise this. In the bigger group, it's sometimes more difficult to see the animals if everybody wants to look at the same time. And with your private guide, you leave a little bit earlier, which means the wildlife isn't disturbed yet and you even have a bigger chance of seeing them.
Other tours for Bako National Park can be booked here.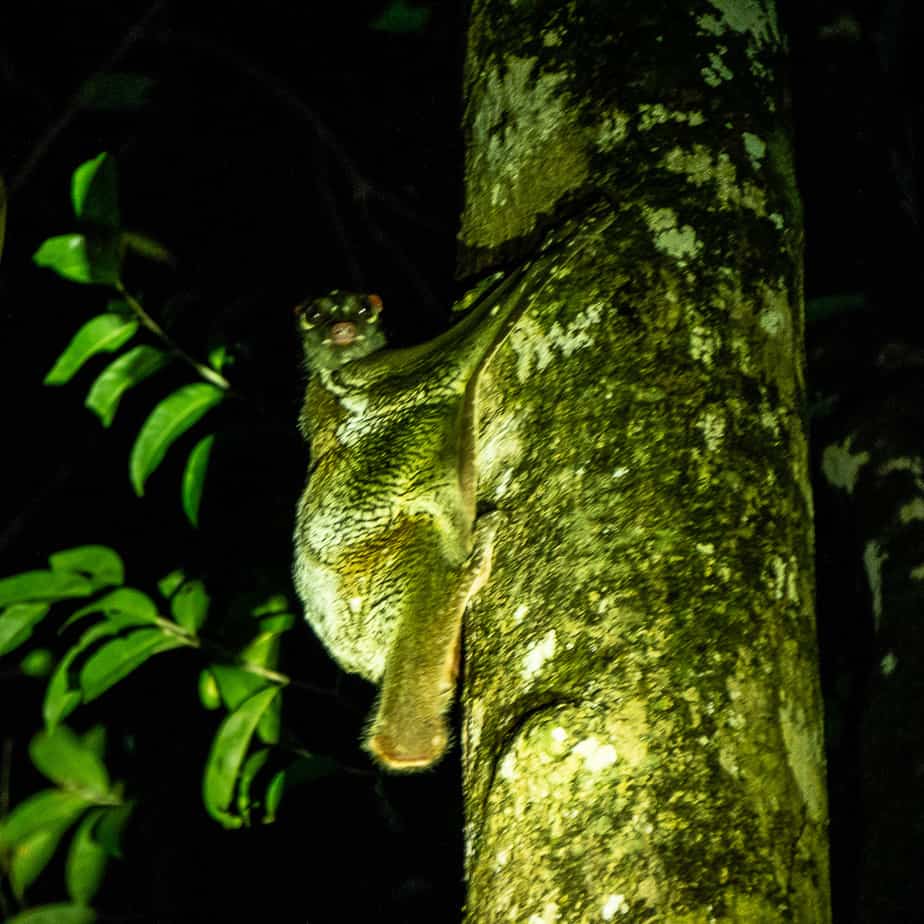 Don't forget
We've mentioned most things, but here is a short overview of things you shouldn't forget when you are planning a visit to Bako National Park.
If you want to stay overnight, book your accommodation well ahead. You can book it here.
Bring a good mosquito repellent. We absolutely love the Off brand, which you can buy there or preorder here.
Look out for the macaques! They can get quite aggressive. Make sure all of your bottles and food isn't accessible for them. They would even look into your backpack.
Don't feed or interact with animals. Let them be wild. If you feed them, they get used to that and can get aggressive if they don't get anything.
If you want to have a guide, book him at the jetty, before you take the boat! The guide for the night walk can be booked in the park.
Photographers, don't forget to bring a good zoom lens! I used this 55-210 mm lens, which was great! but a 70-300mm or other zoom lenses would even have been better!

Make sure you bring enough cash, no withdrawal is possible in the park.

Bring enough water and snacks before you come to the park (but hide them from the macaques). Make sure you take plenty of water on your walks!

There is one walk where you can even swim in a little pool, so perhaps bring your swimsuit.
Find a guided tour in Bako National Park
Find Accommodation in Borneo
Save and share on Pinterest