This post may contain affiliate links. If you make a purchase through one of these links, we may receive a commission at no extra cost to you. Please read our affiliate disclosure and privacy policy for more information
Fes city break guide: things to do and our top tips
Fez is a mystical, magical city and one of the royal cities of Morocco. It was the capital of the Moroccan Empire for hundreds of years and remains the spiritual and cultural heart of the country.
Even the name is a bit mysterious, as Fez is derived from the Arabic word for "secret". And even today, Fez remains a city full of secrets, with the oldest medina in the country. You will find a labyrinth of streets, hidden courtyards, shops and craftsmen everywhere, religious buildings, well-hidden riads, and other gems, …
All the more reason not to skip Fez when traveling through Morocco. It is a city that has something to offer everyone. Whether you're looking for history, culture, souvenirs, or just a good meal, Fez will certainly not disappoint.
We are sure that with the right advice, this mysterious city will enchant you too! In Fez, it is said that you can find everything if you know where to look. And that's why in this article we go over what to do in Fez, the most beautiful sights, and our best tips.
General tips for a visit to Fez
Before we tell you the best sights and things to do in Fez, we would like to give you some general tips.
If you are in Fez for a few days, we can recommend that you hire a guide for a few hours on the first day to visit the city. The medina is a maze and the many vendors can sometimes be a bit pushy. By taking a guide, you will soon have a better feel for where everything is (handy for the days after). And with a guide, you won't be bothered in the most touristic places either.
A lot of things are closed in the medina on Fridays. So put off shopping for souvenirs until the next day and look carefully to see if a place of interest is open.
When you visit Fez, dress appropriately. Cover your shoulders and knees. Although it is certainly not mandatory, it shows respect for the local customs and population. Moreover, you will be treated with more respect yourself (especially as a woman).
Two full days (three nights) are ideal for visiting Fez. Two full days (three nights) are ideal for visiting Fez.
Check out the best stays in Fez here. We also discuss our favorites further in the article.
Start your visit to the medina early in the day (before 10 a.m.). That way you are still ahead of the day tourists and it will be a lot quieter in many places. Which is also perfect when you want to take pictures (especially at the top sights of Fez).
16x What to do in Fez
Get lost in the little streets of the medina in Fez (Fes El-Bali)
The many scents and colors, the spices, the donkeys that transport goods through the narrow streets, the imam who calls to prayer, the hundreds of shops, … The medina is a true experience you can not miss when visiting Fez! It is the largest car-free city in the world and also a UNESCO World Heritage Site.
Strolling through the medina of Fez feels like walking into the fairy tale of a thousand and one nights. You imagine yourself completely back in time. There is something to see everywhere, behind every corner there is a new surprise. A photographer's paradise.
Some of the most notable things to do and see in the medina of Fez are the dromedary butcher, the tanneries (see below), and the metalworkers' quarter,…
The medina of Fez, the oldest (9th century) and largest in the country is almost completely car-free and consists of a labyrinth of streets. Be prepared to get lost (and have fun getting lost)
Keep in mind that Google Maps itself does not always know the way in the medina. The main roads are Talaa Sghira and Talaa Kebira. If you know approximately where you are in relation to those streets and where your whereabouts are, it is easier to find your way.
TIP: Lost your way? Ask for help from one of the many shopkeepers or restaurant managers and not from a casual passer-by. Many men and children want to earn extra money by trying to be a guide and charge a fee after showing you the way (or guiding you to a shop where they have a commission). Do they continue to follow along, just ignore, or politely but firmly reject.
Visit Madrasa Bou Inania or Madrasa Al-Attarine
One of the best things to do in Fez is to visit a Quran school. Madrasa Bou Inania is the most famous and best preserved in Morocco, a must-see in Fes! But Madrasa Al-Attarine is also definitely worth a visit!
Madrasa Bou Inania is a medieval Islamic school, built in the 14th century and centrally located in the medina of Fez. The madrasa is known for its intricate architecture, impressive carvings, stucco, and beautiful tile work. The central square with the fountain is worth a visit in itself.
There is also a (still active) mosque next to the madrasa that you can visit outside of prayer hours. One of the few places where this is possible.
We also visited Madrasa Al-Attarine (near the Chouara tannery). You should definitely not skip this one! You can also look down into the students' rooms and through the small wooden windows from beautiful carvings.
TIP: Do you want to admire the Madrasa in peace, experience the magic of the place, or take beautiful pictures? Then come early in the morning or not long before closing time. We were there around opening time and had the place almost all to ourselves for the first 15-20 minutes. The rest of the day is very busy!
Additional tips for visiting a madrasa:
Take your time to wander around. See the intricate details of the wood and tile work and discover every corner of this special place.
Do you want to know more about Islam and the madrasa? Book a tour with a guided tour or take a guide at the entrance.
Although the Koran school is no longer active, it remains a religious site. So always wear respectful clothes (no bare shoulders and knees) and cover your hair as a woman when you enter the mosque itself.
Visit a tannery
It is one of the most famous images of Fez, the men working in the vats full of dyes in the tannery. It is counted among the toughest jobs in the world and is one of the must-sees when in Fez.
There are several tanneries, but Chouara is the best-known and largest to visit. Another nice alternative is Sidi Mussa.
When you look, you will not only see but also smell the process that leads to your leather shoes, and bags, …! All kinds of substances are used (such as pigeon droppings), and they stink (especially in the morning)! The locals, therefore, give you some mint to hold under your nose to make it a little more bearable.
The best way to visit Chouara is to go to one of the higher terraces for a nice view of the spectacle. You can't miss it, because once you get close, everyone tries to lead you in. Shop nr. 10 has the best view, the location can be found on maps. me.
These terraces are all adjacent to shops full of leather goods so that the traders sometimes ask for money to enjoy the view, use currency or almost oblige you to buy something in their shop.
Therefore, make a clear agreement before you go inside and do not feel obliged to buy anything (it is often more expensive here than in the medina). You can always offer 10-20 dirhams per person if they want a fee to give you some extra explanation.
TIP: To avoid paying to see the tanneries or dealing with pushy leather sellers, book a guide to visit the medina. This one will also take you here and so you can enjoy this spectacle without any hassle.
Go shopping for craft souvenirs and spices in the souks.
The souks of Fez are the heart of the old medina and walking around them is a real adventure! The ideal place to score some cool souvenirs or simply to be overwhelmed by the many impressions, smells, and colors.
TIP: Avoid trying to buy your souvenirs on Fridays. Friday is an important day for Muslims (like our Sunday) and many shops are closed on that day.
Despite the fact that the streets are much narrower than in Marrakech, we found the souks of Fez more pleasant to walk around in because they are completely car-free. Apart from a few donkeys, you don't see a single vehicle.
The souks are divided into different districts where the artisans have their own specialties. There is the souk of the tanners, metal workers (Place Seffarine), carpets and textile workers, pottery with the old tile factories, and spice shops, … In the Jewish quarter, you will find many antique shops. Take your time to walk from one to the other and let yourself be enchanted.
TIP: If you want to buy a souvenir, you have to negotiate hard, especially for larger pieces such as carpets! Never just accept the price they propose (unless they work with fixed prices). If you don't want to buy anything, always be friendly but firm and reject them. Know that if they offer mint tea it is a nice experience, but obviously, their goal is to sell something.
Walk under the blue gate (Bab Boujloud)
The medina of Fez is completely walled and has several entrance gates. Bab Boujloud or the blue gate is the most famous and leads you right into the heart of the medina.
The gate is easily recognizable by the blue tiles. It was built in 1913 after the French made a hole in the wall.
At the gate, within the medina, there are also many nice and cozy restaurants that serve delicious food and fresh mint tea. In addition, the prices here are not that high. A nice place for an affordable, delicious meal.
Admire one of the many fountains (Nejjarine)
They come back in every medina in Morocco, the beautifully decorated fountains where the locals come to fetch water. Often there are even cups so that you can quickly take a sip of water.
Attention, although the water would also be good for tourists, we have not tried it. Our intestines are not always used to the bacteria that are in the water here.
One of the most beautiful fountains in Fez is the Nejjarine fountain on Place Nejjarine. You will also find the beautifully restored gate of the Nejjarine museum.
Drink tea or have something to eat on one of the many nice roof terraces
Part of the magic of the Fez medina lies in its many lovely eateries and small cafes.
Sit on a terrace, order a traditional Moroccan mint tea and enjoy watching the many passers-by and donkeys. Or climb to the roof terrace where you can look over the old town. An oasis of calm in a very busy city.
Café Clock is a cool cafe that has a beautiful roof terrace and a good menu with a mix of Moroccan and Western food. A nice change from the traditional places (a bit more expensive) and a wonderful place to escape the crowds for a while.
To eat we can recommend Chez Hakim, with simple but tasty and cheap dishes. Chez Rachid, close to Bab Boujloud, is also highly recommended. If you want some more western food, we can highly recommend the Cinéma Café.
Finally, be sure to sample one of the many sweet treats they sell all over the street. Or taste some fresh orange juice. They are cheap and very tasty.
They are very cheap and super tasty.
The Kairaouine mosque (the largest in Africa) and the university are one of the most important (religious) buildings of Fez. Moreover, both the mosque and university are still in use, so you cannot visit the beautiful building inside as a non-Muslim.
But you can catch a glimpse through the doors of the incredibly beautiful halls, gardens, and fountains, … And of course, you can admire the imposing minaret from a distance.
Sleep in a riad
In Fez, you will find many beautiful riads, almost all of which are hidden behind high walls. But once you step into such a riad, you end up in a real paradise with courtyard gardens and sometimes even a swimming pool.
An experience not to be missed, if possible, when visiting Fez. We stayed at Riad Alassala and loved it! The beautiful courtyard, the authentic atmosphere, the friendly service, the view over Fez from the roof terrace, … A unique experience!
TIP: Choose a riad or hotel inside the medina. Not only are you close to all the sights of Fes, but you also avoid being unable to enter or leave the medina after some gates are closed.
Later in this article, we recommend some nice riads and hotels in the medina of Fez.
Relax in the Jardin Jnan Sbil
Would you like to escape the hustle and bustle and the many impressions of the medina of Fez? Then be sure to visit the Jnan Sbil Gardens, which are just outside the medina (but still close by).
Here you can enjoy the tranquility between the palm trees, many plants, fountains, and hiking trails, … together with the birds and residents of Fez.
Relax in a hammam
A hammam, a traditional steam bath, is an essential part of Moroccan culture. A visit to a hammam is therefore a nice experience to experience the traditional way of life of the country.
Hammams are a place where people go to wash and relax. They range from cheap and traditional (separate for men and women) to very luxurious, also including Spa facilities such as massages.
The more luxurious spas are of course more for tourists, although as a tourist you can certainly also go to a traditional hammam.
Many riads and hotels have their own hammam & spa. Some of the highlights in the medina are Spa Laaroussa, and Spa Riad Fes by Cinq Mondes. Another nice option is the Hammam Mernissi. You will find more information in this article about the most beautiful hammams in Fez.
In any case, a hammam is a perfect way to relax after a day full of impressions, a lot of walking, and visiting everything.
Enjoy the sunset on a roof terrace or above the city (Gare Routière, Borj Nord or the Marinid Tombs)
When you walk between the narrow streets with high houses, it is hard to imagine, but you can also enjoy a beautiful sunset in Fez.
All you have to do is go to one of the many roof terraces (at your riad or at a restaurant). Wonderfully quiet after a long and busy day full of impressions. And it remains a magical sight to look over all those houses and flat roofs, with the many minarets sticking out above them. And especially when the sun goes down.
Another way is to get out of the medina and walk higher up. At Gare Routière or Borj Nord, you have a fantastic view! You can also go and see the Marinid Tombs (ruins of the tombs of sultans), about a 20-30 minute walk from the blue gate (Bab Boujeloud).
Visit the Jewish quarter of Mellah
A little outside the old medina you will find the Jewish quarter or Mellah (one of the oldest in the country).
In many Moroccan cities, there is also a large Jewish community. After WWII a lot of Jews left, but still, many Jews still live in peace with the Muslims (although that was not always the case centuries ago).
It is very interesting to visit this part of the city and especially the contrast with the Arabic architecture of the rest of Fes. Be sure to visit the Ibn Danan Synagogue and the Jewish cemetery.
See the gates of the Royal Palace (Dar Al-Makhzen)
You cannot visit the beautiful royal palace in Fez, as it is still used by the Moroccan king and his family.
But you can admire the beautiful bronze gates and mosaics on the outside or walk in the surrounding gardens. This used to be the sultan's palace and that's how it looks.
Definitely worth a visit if you're in the area! You can also combine a visit to the royal palace with the Jewish quarter of Mellah.
Take a cooking class
Do you want a unique experience in Fez? Have you already thought about a traditional Moroccan cooking class?
We did one during our stay at Riad Alassala and found it very nice, interesting and of course tasty. First, you go with the cook to buy the ingredients in the souks of the medina. Very educational. And after that, we prepared a tajine.
Also, Cafe Clock, a popular place for tourists, offers fun cooking courses.
Visit the Dar Batha Museum
The Dar Batha building used to be the royal palace of Fez. It dates from the 19th century and was built by the sultan.

At the beginning of the 20th century, it was transformed into a museum, where you can admire the history of Moroccan crafts and artifacts. More than 6000 objects show you the best of what they have created in Morocco.
Best riads and hotels in Fes
As we wrote before, it is best to stay in Fez in the medina. This is where all the main sights are located and there is also the most atmosphere.
If you have the opportunity, definitely choose to stay in a riad. A unique experience when you are in Morocco!
These riads are all architectural gems, with courtyards and sometimes even a swimming pool, hidden behind high walls. An oasis of peace, where the busy city seems very far away. Most of them have a roof terrace, where you can enjoy the sunrise or sunset.
TIP: You can choose to stay near one of the two main streets (Talaa Sghira and Talaa Kebira) so that you can find your riad or hotel more easily and do not have to walk back in dark streets.
We stayed at Riad Alassala and had a fantastic stay. From the beautifully decorated courtyard to the beautiful spacious rooms, delicious breakfast, and very friendly staff, it was a unique experience.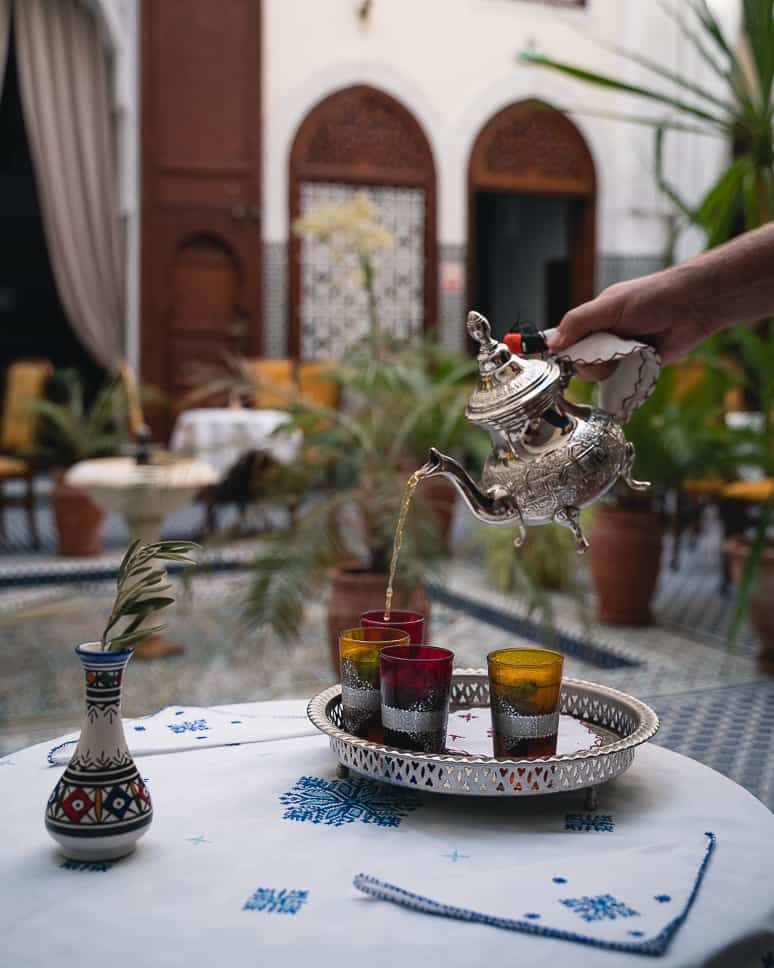 Other fantastic places to stay in the medina are Riad Tizwa (not far from Bab Boujloud), Riad Sidrat (along one of the high streets), Riad Salam Fes (with a swimming pool), Dar Roumana (beautiful view over the city) and the luxurious La Maison Maure (a more modern Moroccan interior).
TIP: the most beautiful riads are often full early (especially the more centrally located and/or affordable riads). So be sure to book in time for the most beautiful spots.
How to get to Fez
Fez is one of the three royal cities and is fairly easy to reach by plane, train, bus, or car.
You can fly directly to Fez from Belgium or the Netherlands (check the cheapest flights here). A 3-hour flight and you are immediately in a completely different world. If you also want to make a tour through Morocco, you can rent a car there. It is very nice, for example, to go from Fez to Marrakech in 1 week or 10 days.
If you don't have a rental car, you can easily take a taxi from the airport to the medina. You can book your taxi in advance (book on time) or go with the big white taxis.
Have you already rented a car elsewhere for a tour of Morocco? Then you can easily drive to Fez yourself from Chefchaouen (3h), Rabat (2.5h), or Marrakech (6h).
TIP: Do you want to rent a car to make a tour through Morocco as we did? Then we can recommend you SunnyCars! They have an all-inclusive policy, so you will never be faced with surprises. The insurance and all costs are included in the price. Ideal for a country like Morocco.
There are also easy connections by train, for example from Rabat or Marrakech. You can also take the bus (CTM), although it will take you a little longer to get there.
Best time to visit Fez
The best time to visit Fez is in spring (April, May) or autumn (September, October).
During these months, the temperatures are pleasant for exploring the city and visiting the many sights of Fez. During summertime, it is very hot. From November to March, there can be a lot of rain and it can be cold in Fes.
Fez also has a number of festivals and events that take place during the spring and fall, so this can be another reason to plan your trip for these times of the year.
In the spring there are also a lot fewer tourists. In summer (especially August) and also in autumn it is a lot busier. The prices of accommodations will therefore be somewhat higher.
Day trips from Fez
Chefchaouen
Chefchaouen is about a 3-hour drive from Fez and you should not miss it when you come to Fez! Whether you're traveling through Morocco or just visiting Fez, consider visiting Morocco's blue city too!
The medina is completely painted in blue, making it one of the most photogenic cities in Morocco. Moreover, it is also a lot quieter and more relaxed.
You can go there as a day trip from Fez, but that is of course a fairly long day with a lot of driving. That is why we really recommend that you go for 1, or even better, 2 nights. In the morning you will not be bothered by day tourists and you can really discover the blue city!
Do you want to know more about it? We wrote a full article about what to do in Chefchaouen, the blue city of Morocco.
Meknes and Volubilis
A day trip to Meknes is something you should not miss when you are on a city trip to Fez.
Meknes is, along with Fes, Rabat, and Marrakech, one of the royal cities of Morocco. It is a very pleasant city to visit with again a beautiful medina. The gates and great mosque are some of the many sights.
The city of Meknes is about an hour's drive from Fez. If you do not have a rental car, you can also choose to book a guided tour from Fez to Meknes.
A visit to Meknes is also usually combined with a visit to Volubilis, one of the most important Roman archaeological sites in Morocco. It is also a UNESCO World Heritage Site.
Merzouga
Do you have some extra days to spend in Morocco or are you on a round trip? Then you should definitely descend from Fez to the desert in Merzouga. The beautiful dunes, Berber tent camps, trips on a dromedary, … it is an experience not to be missed in Morocco!
Count on 2 or 3 days for this trip (and even more if you have the time). If you drive there yourself by car, you should count on a journey of 7 to 8 hours. But don't worry, the ride itself is magnificent too.
You can also do organized tours from Fez. We recommend booking a 3-day trip from Fez to Marrakech, where you sleep in the desert, drive through the Atlas, and also visit some highlights such as Ait Ben Haddou and the Todra gorge.
If you only want to do the desert, you can also book a 2-day tour to Merzouga where you will return to Fes.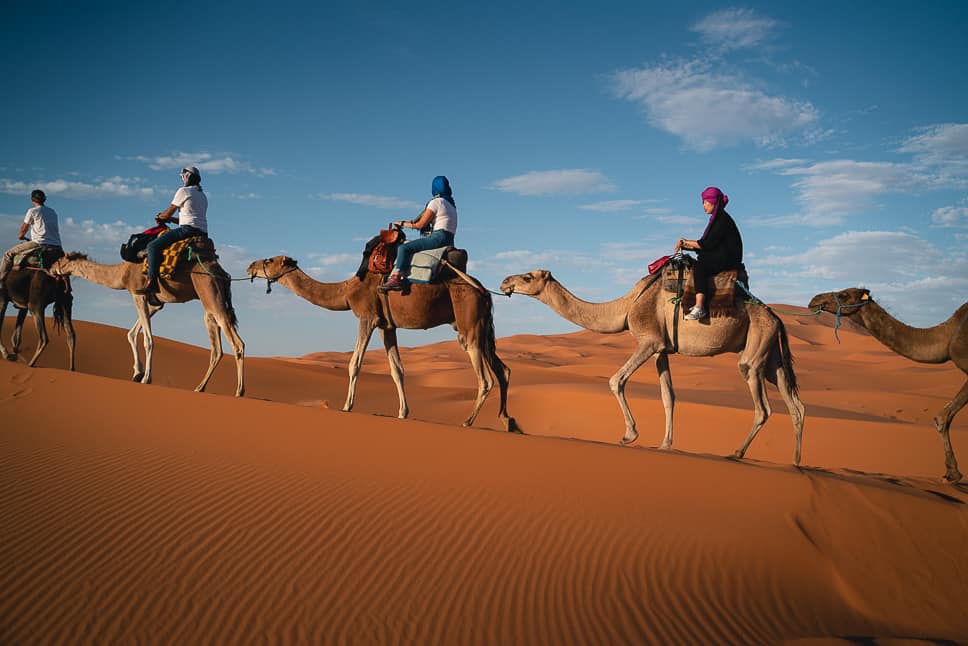 Ifrane National Park
About an hour's drive from Fez is the Ifrane National Park, which is ruled by the Atlas cedar trees and Barbary macaques.
You can do some beautiful walks here. Come here on your own as a day trip or book a tour from Fez. When you drive to Merzouga, you will pass here as well.
Hopefully, you found this article about fun things to do in Fez, Morocco with our best tips and the most beautiful sights interesting. Feel free to let us know in the comments what you think, what your experiences are, or if you have any questions.
Enjoy your Fez city trip and adventure in Morocco!
Save this article for later on Pinterest
Our other Morocco articles that may also interest you
What to do in Fez, Morocco: sights and tips