This post may contain affiliate links. If you make a purchase through one of these links, we may receive a commission at no extra cost to you. Please read our affiliate disclosure and privacy policy for more information
Visit Aït Ben Haddou: one of the oldest and most beautiful ksars in Morocco
Aït Ben Haddou is an iconic and photogenic village located in the foothills of the Atlas Mountains in Morocco. It is one of the best-preserved ksars (walled cities made of mud and wood) in all of Morocco. You may even have seen it before, as it has been used in many movies such as Gladiator, Game of Thrones, Lawrence of Arabia, and The Mummy.
Aït-Benhaddou (or Ait-Ben-Haddou or Aït Benhaddou, there are many possible spellings) originated in the 11th century along the former caravan route between the Sahara and Marrakech. Meanwhile, it is also a UNESCO World Heritage Site and a popular tourist destination.
The old town is best known for its earthen architecture, which has remained largely unchanged for centuries. The site is located on a hilltop and is surrounded by an oasis.
As a visitor, you can explore Aït Ben Haddou, which includes a mosque, kasbahs, and several houses. Wander around the labyrinth of small streets and alleys. It offers you a glimpse into the past. Once you go higher up, you also get the chance to admire the beautiful Moroccan mountain landscape.
In this article, we give you our tips for visiting this beautiful piece of history, including how to visit Ait Ben Haddou and where to sleep.
Where is Aït-Ben-Haddou and how to get there
If you are traveling through Morocco (as we did), then Ait-Ben-Haddou is perfectly located between the Todgha gorge and Marrakech. It is about a 3-hour drive from the Todra gorge and Dadès gorge. From Marrakech, it takes about 3 to 4 hours.
Read more: The perfect itinerary for 10 days in Morocco
However, many people do a day trip from Marrakech to Aït-Ben-Haddou or from the closer Ouarzazate. Ouarzazate is known for the many film studios that are located there.
TIP: If you have time, consider staying overnight in Aït-Ben-Haddou so you can visit the old city early in the morning or in the evening. That way you avoid the day tourists and the worst heat. The colors of the ksar are also beautiful at sunrise.
How to visit Ait-Ben-Haddou
Visiting Aït-Ben-Haddou is a fantastic experience! There is a reason why so many movies have been filmed here. It's like walking back in time and the next caravan could show up from the Sahara at any moment.
To visit the city itself, it is best to allow 2 to 3 hours. Then you will have time to visit everything, hike all the way up to the agadir (granary) to enjoy the view of the Atlas Mountains, and maybe even buy some souvenirs. If you want more explanation, you can also choose to book a guide.
In addition to the more traditional items, you can also buy unique paintings here that are made with blue indigo dye, saffron, and green tea. They hold the painting over a burner and as if by magic, the colors appear!
Looking for lunch or dinner? Then we advise you to enjoy a nice meal on the other side of the river with a view of the old ksar. From the terrace of the hotel Dar Mouna La Source you have a fantastic view, but Kasbah Valentine also has a lovely roof terrace with a beautiful view
Extra tips to plan your visit to Ait Benhaddou
Normally, you do not have to pay to enter the city through the main gate. When we entered the town there was a man who asked for 20 dirhams per person. Apparently, this was to visit the kasbah (a fortified dwelling) and not the city (ksar). So don't feel obliged to buy this unless, of course, you want to enter the Kasbah.
It can get hot here during the day. So bring plenty of water, a hat, and sunscreen. Sturdy shoes can also be useful because the paths to the top are not always fantastic. Although it also works with sandals.
As everywhere in Morocco, respect local customs and dress respectfully. This is certainly not mandatory, but it's your way to show respect to the local people. For women, cover shoulders and knees.
If you want to buy souvenirs, don't forget to negotiate. Of course, the price is often negotiable.
TIP: Do you want to buy something? Agree on a price in advance. We wanted to buy three bottles of water and the friendly man asked if we also wanted to see his house because scenes from movies have been shot there and there is a beautiful roof terrace. Definitely worth going in, but afterward he asked us 3 times the price for the bottles. When we indicated that was too much, he said with a smile that we could give what we wanted. It is therefore better to be clear about the price in advance.
As we wrote earlier if you want to get the most out of your visit to Ait-Benhaddou, stay here overnight so that you can visit the ksar in the evening or in the morning. Not only do you avoid the heat, but also the day trippers. Walking through the streets almost alone certainly adds to the magic of the city.
If you stay overnight, you can also admire the sunrise. The low sun creates a beautiful play of colors of orange and red shades on the mud houses. Before sunrise, many people climb the hill opposite the old ksar. We were able to enjoy the spectacle from the terrace of our hotel Dar Mouna La Source, across the river, also an ideal place.
Spend the night in Aït-Ben-Haddou:
As we indicated earlier, we can really recommend that you stay in Aït-Ben-Haddou for a night. You can find several hotels and most of them are very affordable.
There are not many accommodation options in the old town itself. One of the best is Kasbah El Hajja, again with very friendly staff, but above all a fantastic location and beautiful roof terraces.
We stayed in the beautiful and not-so-expensive Dar Mouna La Source, located opposite the old ksar (5 minutes walk) on the other side of the river, which is often dry. The spacious hotel, with very friendly staff, has beautifully finished rooms and a beautiful view of the ksar from the terrace (especially at sunrise). You can also have a delicious breakfast there.
Daytrip from Marrakesh to Ait Ben Haddou
We wrote it before, but we don't really recommend doing a day trip from Marrakech to Aït-Ben-Haddou. It is better to rent a car in Morocco and do a road trip.
Do you not have much time or is driving around Morocco, not for you? Then a day trip may be the right solution for you. Keep in mind that it will be an intensive day with a lot of time in the car or bus.
When you go on a day trip from Marrakech to Aït-Ben-Haddou, your visit is often combined with a visit to the city of Ouarzazate. This place is best known because some major film studios have settled there and you can visit them. Very nice for movie addicts
Here is an overview of some nice day trips from Marrakech:
Read more: Discover the desert of Morocco in Merzouga
With all these trips you also go over the Tizi 'n Tichka pass, with phenomenal views over the high Atlas. Absolutely stunning!
Do you have questions or additions? Feel free to let us know in the comments!
Have fun planning and traveling in magical Morocco!
Save for later on Pinterest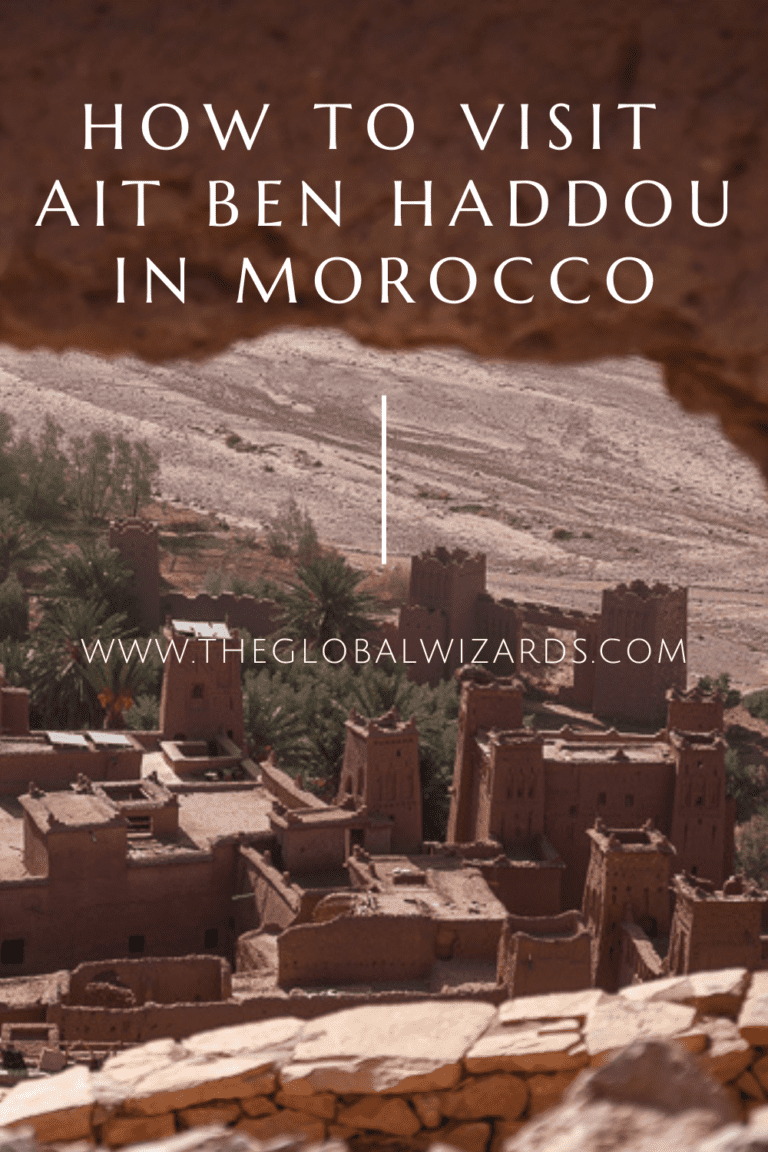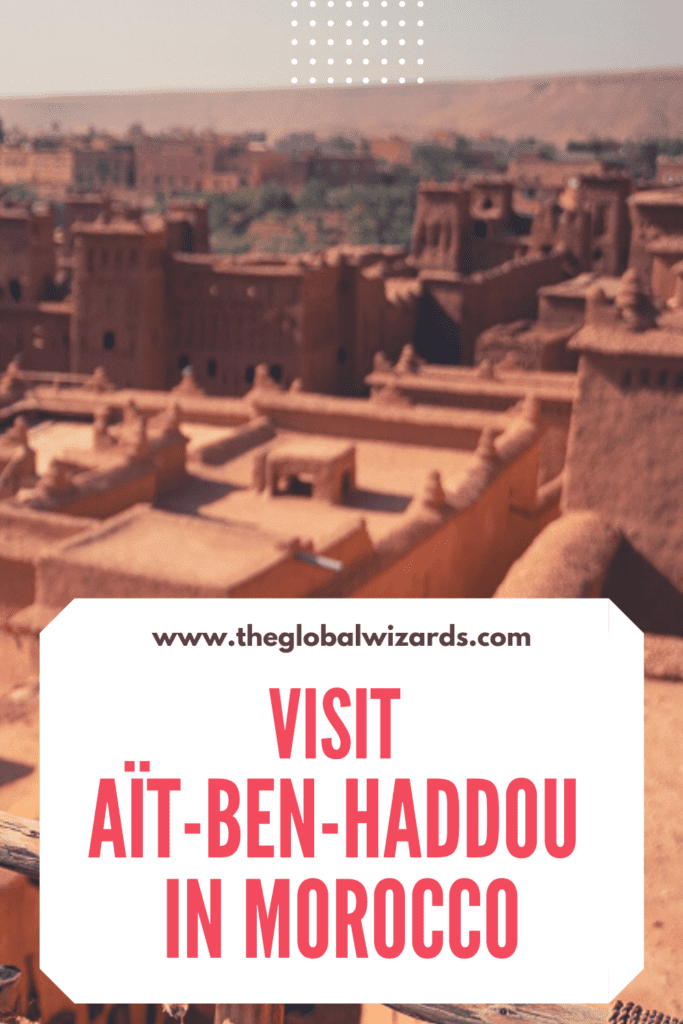 Our other articles about Morocco
Discover our other articles about Morocco here to plan the rest of your trip to this beautiful country in addition to your visit to Aït-Ben-Haddou!
Aït-Ben-Haddou: plan your visit and travel tips