This post may contain affiliate links. If you make a purchase through one of these links, we may receive a commission at no extra cost to you. Please read our affiliate disclosure and privacy policy for more information
The complete list of best family travel blogs and bloggers in 2022
Our family loves to travel! Whenever we need inspiration or information on planning our next trip, we love to check other family travel blogs. Over the years, we follow some amazing blogs that have given us tons of tips on family travel and usually just make our bucket list longer.
Read more: Family travel bucket list ideas
If you're planning your next family vacation or just want to be inspired by other traveling families, we have made a list of our favorite family travel bloggers to follow! Did we miss one of your favorites? Let us know in the comments!
Read more: The best gifts for kids who love to travel
We want to point out that the order in which the family travel blogs are ranked, is completely random. We love the last blog as much as the first one listed! Text and pictures are provided by the blogs themselves.
If you want more travel inspiration, also check our 50 favorite travel families on Instagram, families you should follow on Youtube, and the best family travel podcasts.
Blogs about adventurous family travel
The Global Wizards
We write the article, so I guess we can be on the list as well ;-)? We are Jurgen, Heleen, Yuna (2010), and Hanne (2011), also known as The Global Wizards Family.
As a full-time travel family, we are passionate about photography and creating content to inspire all of you with our Instagram and this blog.
Our home country is Belgium, which we love. But traveling has been part of our lives since the beginning of our relationship and we didn't stop when we got kids. Our girls have been traveling since they were babies.
Over the past years, we have been all over the world, partly living the van life with our old VW bus. While traveling, we also work online and homeschool the kids.
Our blog is all about sharing our experiences, tips, and passions. We're experts in adventurous family travel and photography. We write about the destinations we visit, give you advice on travel in general, photography, working while traveling, traveling on a budget and so much more.
Read more on The Global Wizards.
5 lost together
We are a Canadian family of 5 that blogs about our travels at 5 Lost Together. Making travel a priority in our lives, we believe there is no one right way to travel with kids.
We specialize in independent, budget adventure travel around the world.
We have taken our kids to go trekking in Nepal, chasing Komodo dragons in Indonesia, road-tripping across the Australian Outback, riding camels through India, lived on a sailboat in the Bahamas for 4-months, and more.
Read more on 5 Lost Together.
Travel Babbo
I'm Eric and have been blogging for eight years about adventurous family travel. I've taken my kids to 62 countries and all 7 continents and am always searching for the coolest, most unique kid-friendly activities around the world. Every year each of my three kids (12, 14, and 16) gets to choose any destination in the world for a one-on-one trip with me.
Read more on Travel Babbo.
(Photo credit: Flytographer)
World Travel Family
My name is Alyson and I was the original creator of the world travel family website but these days my husband and son work for me and help with some writing and videography too. The tech stuff is still all me but I'm training them up.
Our site was born 8 years ago when we decided to take the kids traveling as a vital part of their education. We were on the road for 6 full years then hit a wall and had to go back to sort out house problems. My advice to anyone doing this is to get rid of your house and all your stuff, it's a milestone you don't need.
Our site is a travel resource covering 50 or so countries, it continues to expand. Where have we been, well, everywhere? We've crossed Europe many times, lived in Vietnam, Romania, London, and Australia, and have taken the kids to Everest Base Camp, Tibet, and Bhutan.
Our family loves cultures, food, wildlife, and people, not so much hotels and beaches. We cover the travel we love and we don't travel on sponsorship, so we can keep it real and tell you honestly what we liked and disliked. Our website is our business and our freedom. It has changed our lives and given us so much. We hope you find it useful.
Read more on World Travel Family.
Travelynn Family
This family of four from the UK pushes the boundaries of family travel and believes that adventure should not wait until the kids are older. They have trekked the Himalayas, lived in India, traversed Africa in a Land Rover with roof tents, and are spending 4 months of 2022 slow-traveling through Morocco after deregistering their boys (age 7 and 8) from school. They also take on some pretty fun European road trips in their Mazda Bongo camper at every available opportunity.
Jenny and her husband both work remotely, which enables the family the freedom to travel when they want. However, they strive for a balance between long-term travels and basing themselves in the UK, as their boys love school. So when they're not adventuring off the beaten track, you'll find them hiking in the hills of the Peak District National Park where they live.
If you want to take your kids to Africa or Asia or love an epic road trip, TraveLynn Family is definitely one to follow.
Read more on TraveLynn Family.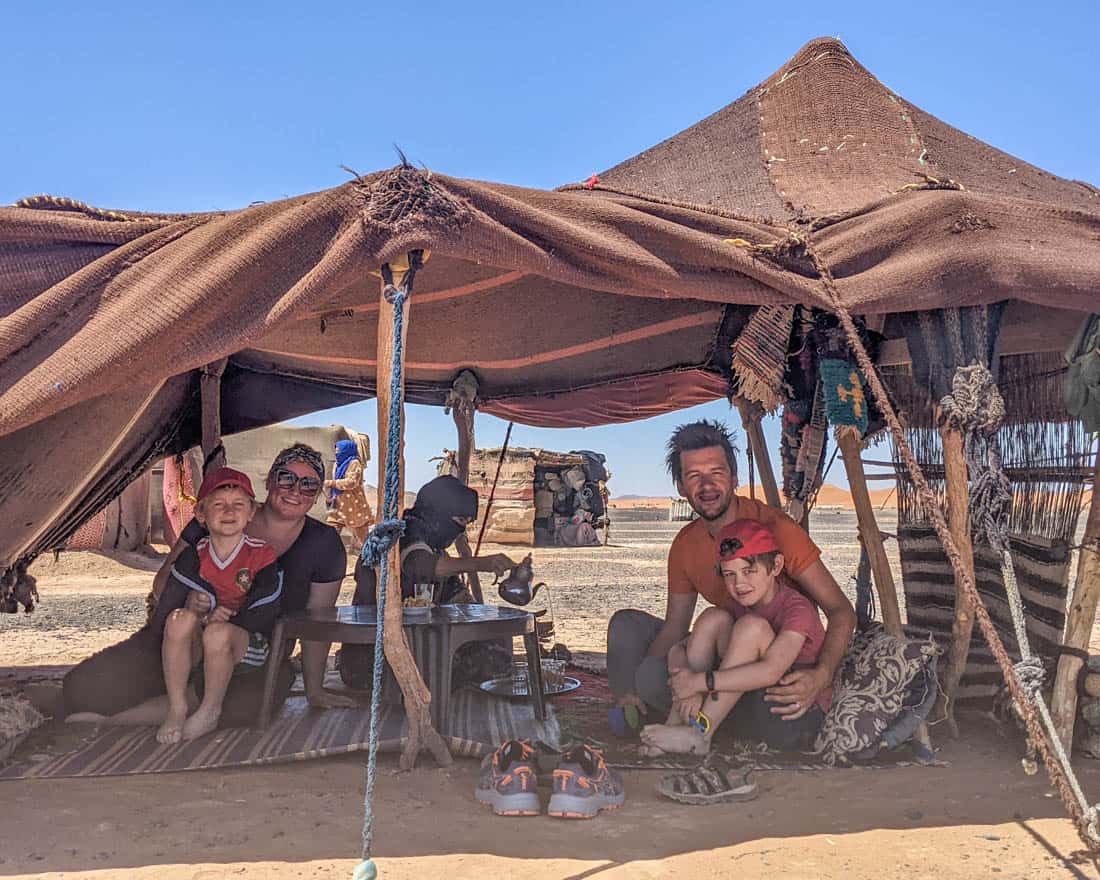 Our Overseas Adventures
We're a Canadian family of four who loves to travel. Our favorite adventures are the ones that take us to off-the-beaten-path locations. We love it when family and friends have to pull out a map to know where we're going.
We've traveled to over 50 countries together, including Togo, Benin, and Burkina Faso in West Africa and the Guyanas in South America. Our long-standing favorite country though is Vietnam (we really love SE Asia!).
Our most recent adventure has been converting our Land Rover Defender into an overland vehicle. We plan to spend the next decade driving around the world.
Our family blogs about our adventures and is packed full of practical advice, budget information, and real-life tips for visiting the places we've traveled to.
Read more on Our Overseas Adventures.
Where is the world
We're a Canadian family of four who loves to travel. Our favorite adventures are the ones that take us to off-the-beaten-path locations, and we love it, even more, when family and friends have to pull out a map to know where we're going.

We've traveled to nearly 50 countries together, including Togo, Benin, and Burkina Faso in West Africa and the Guyanas in South America. Our long-standing favorite country though is Vietnam (we really love SE Asia!).
Our family blog's a bit about our adventures and is packed full of practical advice, budget information, and real-life, tested by our tips for visiting the places we've traveled to.
Read more on Where is the world.
An epic education
The website An Epic Education is designed to provide all the resources you need to plan an incredible family trip. Living abroad since 1997, blogger Jason Andrew Jenkins has been traveling with his kids since they were babies.
In 2013, he and his wife Keiko left their desk jobs in Tokyo, pulled the kids out of school, and started traveling full-time as a family. For the following six years, they lived in Taiwan, Malaysia, Spain, and Mexico, experimenting with homeschooling and local schools along the way.
In August 2019 they returned to Japan so their kids could reconnect with the country of their birth. They still travel as often as possible and are constantly planning the next trip.
Read more on An Epic Education.
Adventure and sunshine
Adventure and Sunshine are a family of 4 exploring the world together. Collectively we have traveled to 56 countries on 6 continents, 31 of these with our children. We are passionate about independent adventure travel, slightly obsessed with getting outdoors and love sharing practical advice on how to travel the world with kids.
On our family travel blog, we talk about how to plan a family gap year, the best road trips, RV travel, and the best travel destinations with kids. Because having kids doesn't have to mean the end of adventure travel.
Read more on Adventure and Sunshine.
Mum on the move
Mum on the Move is a family travel blog, featuring family-friendly travel tips, reviews, inspiration, and destination information from around the world, with a strong focus on Asia and Australia.

At Mum on the Move, we feel strongly that having kids doesn't have to stop you from engaging in adventurous and culturally interesting activities. Our kids have been bamboo rafting in China, snorkeling in Indonesia, kayaking with fireflies in the Philippines, climbing temples in Myanmar, and walking the canopy walkways in Borneo, on top of many more fun family adventures.
Read more on Mum On The Move.
The Wandering Daughter
Astrid and her family have been travelling full-time since 2018. So far, their travels have taken them to the United States, Mexico, Costa Rica, Italy, France, and Indonesia.
Focusing on world schooling and responsible travel, Astrid shares her family's travel experiences on her blog, The Wandering Daughter. Astrid loves showcasing unique destinations and encouraging families to go off the beaten path.
Read more on The Wandering Daughter.
The Jetsetting Family
The Jetsetting Family blog provides travel tips from Rodrigo, Jessica, Santiago, and Nora who have been traveling the world full time for almost 2 years. Their travels have taken them to Southeast Asia, North America, South America, Europe, and the Middle East.
While traveling with young kids can seem difficult, they give fun tips to make traveling with kids much easier. Their blog also contains all 34 episodes of The Jetsetting Family Travel Podcast, which consists of travel tips, interviews with other traveling families, and ways to make travel more of a priority in life. Each episode is jam-packed with info and a great way to get family travel content on the go!
Read more on The Jetsetting Family.
Ytravelblog
Caz (Caroline), Craig, and their two lovely daughters Kalyra and Savannah are originally from Australia but live in North Carolina now. Although they call the world their home.
They've been traveling full-time for years, a big part of that in the US during their American Unplugged road trip. Now they live in Raleigh.
Their family travel blog is full of advice on why you should travel with kids, destination tips, how to plan everything and so much more.
Read more one Ytravelblog.
Full Suitcase
Jurga Rubinovaite is a mom of three and the founder of one of the world's leading family travel blogs, Full Suitcase. Originally from Lithuania, she now lives in Belgium and takes every opportunity to escape the daily routine and travel with her family.
Full Suitcase is a travel blog for families who want to show their kids the world beyond beaches and theme parks. We travel to some of the world's most exciting destinations with our three boys and share our first-hand experiences and practical tips with our readers.
Our kids have traveled ever since they were little and have been all over the world – from South Africa and Namibia in the South to Iceland and Greenland in the North, and from Australia in the East to the United States in the West….
We love seeing the world through their eyes and creating amazing memories together with them.
Read more on Full Suitcase.
Small kids' family travel blogs
Baby can travel – Family can travel
We are a family of 4 from Western Canada. We took our first trip with our firstborn when she was 3 months old from Canada to Barcelona. At the time there was very little information online about traveling with babies, aside from general tips on flying.
Traveling with a baby for the first time, and making plenty of mistakes along the way, was the inspiration for Baby Can Travel. Through our Baby Can Travel blog we hope to inspire other parents to keep traveling with babies and toddlers, plus provide information and advice on where to travel and all the best baby/toddler travel gear.
Since that first trip with our daughter, we've continued to travel with both our kids multiple times a year. We've experienced so many incredible things with them, from chasing waterfalls in Iceland to eating all the mango sticky rice we could get our hands on in Thailand. Our kids have hiked in some of the most beautiful places on earth. We continue to share all our travel adventures on our second blog Family Can Travel.
Read more on Baby Can Travel and Family Can Travel.
Our next adventure
Hi, we're the Ishmaels! Matt, Laura, Evelyn, and Sophie. We're a pretty typical American family, living in Omaha, Nebraska; that is, aside from our serious case of wanderlust. After realizing most of our best family moments have come while traveling, we've committed to a life of experiences over things, traveling in any spare moment we can find!
We like to travel slowly, really taking in one city at a time, so we still have a lot to conquer on our bucket list! So far our favorites have been Lisbon, Tulum, Florence, and Charleston (quite the eclectic bunch!).
We've traveled with babies, toddlers, and now two kids in tow, and through the entire process have learned how to stretch our dollars further, traveling more and spending less than ever before.
We love to share it all on our family travel blog, Our Next Adventure, where you'll find family-friendly itineraries, packing lists, tips for traveling with babies and toddlers, plus tons of free printable travel planning resources to help keep you organized!
Our goal is to show other families that traveling with kids is not so hard. Or, at the very least, it's worth the extra effort for the rewards on the other side!
Read more on Our Next Adventure.
Flip Flop Globetrotters
We started our family travel blog Flip Flop Globetrotters in 2015 to document our travels, share our travel experiences and inspire other families to travel with their young kids.
After 10 months of traveling around South East Asia when our son was a toddler, we now have a home base in the Netherlands.
We love to travel with our son and we love to write about it! Our dream is to travel full-time again, but for now, we travel whenever we can. Our most recent trips brought us to Mexico and Egypt.
Read more on Flip Flop Globetrotters.
The Funemployed Family
We're Ben, Kelly, Liesel, and Mason! We call ourselves The FUNemployed Family. Here's how it started!
In 2018, we realized the "American Dream" wasn't for us. We had successful careers but we weren't fulfilled by working our life away to be able to afford the things we THOUGHT we needed as a family. Due to the stress and work burnout we didn't end up spending much quality time together as a family. It was neither healthy nor sustainable. We decided to sell our home and most of our belongings and hit the "reset button" on life.
Over the next two years, we full-time traveled around the world to 28 countries taking back all the lost time, bonding with our daughter, and planning our future. We welcomed Mason to the travel crew in 2020 and since then have moved into remote careers in financial consulting and brand content creation. We also own/operate two Airbnbs in addition to managing our family, lifestyle, and travel blog, Instagram, and TikTok channels.
We hope that we can inspire other families to think outside the box, push back on society's "norms" and truly live the life you want. We've grown so much as a family and experienced more than we ever thought possible, and it's all thanks to making that 1st decision to change our lives.
Read more on The Funemployed Family.
Big family travel blogs
Our Globetrotters
The Globetrotters are a British/Australian family of 5 living in the United Arab Emirates. Being long-term expats, they have used their Middle East posting to explore extensively the region, and their UAE airport hub for traveling around the world.
Their favorite holiday spots have included Cambodia, Oman, and Jordan, though Thailand and Bali are also family favorites for relaxing beach breaks.
Read more on Our Globetrotters.
Also, check the local travel blog Family Travel in the Middle East.
Globetotting
Globetotting is a blog for families that love to travel run by Katja with lots of support from her husband Nick and three kids Alfie, Tess, and Sam. Katja started Globetotting when she was living in New Delhi and quickly realized there was a lack of information available for parents like her who wanted to explore India as a family.
What started as a family travel blog focused on India and south-east Asia has quickly grown to cover everywhere from Mongolia and Mexico to Guatemala, Finland, the UK, and more. A travel writer by trade, Katja brings her years of travel experience to her blog – and her travels – and is constantly searching for that next family adventure.
Read more on Globetotting.
Wanderlust Storytellers
Wanderlust Storytellers family travel blog follows the adventures of the five enthusiastic travelers in the Ejmont family. The blog focuses on family travel destinations, tips for traveling with kids of all ages as well as all-important kids travel gear.
Their family travel adventures take them all over the world. They venture out from the kangaroo country of Australia, South Africa's national parks, and Namibia's deserts to Italian, French, and Polish old towns, and from bustling cities of Japan to remote tropical islands of Fiji, Vanuatu, and Thailand.
If you are after unique experiences that the whole family can enjoy then these guys are certainly the ones to follow.
Read more on Wanderlust Storytellers.
Our 3 kids v the world
I'm Sally, the founder of our3kidsvtheworld, a family travel blog focusing on travel for larger families with a splash of luxury thrown in for good measure, who doesn't love a bit of luxury!
We are Australian based and we travel during school holidays. We have traveled extensively in Asia but have also explored New Zealand, the USA, and the Caribbean. Our heart definitely lies in South East Asia.
We run two Facebook Groups for people interested in traveling in Asia, these are South East Asia Travel Planning and Hong Kong and China Travel Planning, we talk about everything related to travel in these areas, and of course, I love it when members share their photos.
Traveling with a larger family can be challenging as most hotels really only focus on the nuclear family of mum, dad and 2 kids. This is hardly the standard anymore and families come in all shapes and sizes and we're here to show you that travel can be for all family sizes.
Read more on Our 3 kids v the world.
Go Live Young
Go Live Young is a family of five, with three boys aged 10, 12, and 14, who have a passion for travel and adventure. They've recently returned from a nine-month round the world trip, an adventure of a lifetime. Now living back in South Wales in the UK, and traveling as much as the school holidays will allow.
Their adventures include trekking with Komodo Dragons, road tripping around New Zealand, swimming with sharks in South Africa, and hiking 4444 steps in Norway!
Travel for Go Live Young is all about having an adventure as a family, creating lifelong memories by doing unforgettable things, and seeing the world.
Read more on Go Live Young.
World of travels with kids
World of Travels with Kids is a family travel blog that shares our love for this amazing planet and its people. We're a multi-cultural family, the kids are half Nicaraguan, half Australian; with one born in Peru when we lived there.
We share honestly about places we've been and know well; especially Western Australia where we live, and Peru where we spend a lot of time.
Having recently lost our partner/father we're learning to live again and to solo parent as well. In short, we share stories of love, connection, and adventures, as we travel the world to our own, unique rhythm.
Read more on World of travels with kids.
Solo moms' family travel blogs
Mumpacktravel
Solo mum Evie and her 12-year-old daughter Emmie spent years backpacking Asia full-time, and since covid, they've returned to Sydney where Emmie has started high school, and as well as continuing their trips together, Evie is now doing trips alone.
So far this year they've explored Malaysia and Fiji, and Evie has traveled alone to Dubai, Hawaii, and cruised the Greek Islands with Royal Caribbean.
Evie and Emmie share their journey with practical tips about where to stay and what to do, how to pack up your life and start the best adventure you'll ever have with your family, and now how to travel without kids (also super fun!).
Read more on Mumpacktravel.
Also check out their book about their travels called Backyard to Backpack: a solo mum, a six-year-old, and a life-changing adventure.
Lizzie Lau Travels
Our mission at Lizzie Lau Travels is to provide a family travel resource with stories, city guides, road trip routes, tips, and hacks to help parents and their kids make the most of their travels.
Though our focus is on traveling with kids, I spent my adult life before kids traveling the world and working as a chef on private yachts, so I have a lot of insight into solo travel, luxury travel, budget travel, and in between.
I caught the travel bug at an early age living a nomadic life with my parents. We moved 20 times before settling down in BC when I was 10. At 22 I left to work on a dive boat in The Bahamas and finally returned home at age 45.
My 9-year-old daughter was conceived in Guatemala, born in California, and has already been on over 50 flights. It's safe to say she's following in her mama's footsteps and developing a passion for travel.
Read more on Lizzie Lau.
Learning to breathe abroad
A South African Mom and Son team traveling, homeschooling, and working our way around the world.
We spent 12 months backpacking around South East Asia, then bought a campervan in the Netherlands and spent 9 months traveling extensively through all the Eastern European countries, a few Western European countries, and spent 2 months in Morocco.
We're just starting out on our next big adventure – a year traveling through South America. Join us as we explore new places, eat exotic food, dance in the rain and look for high adventure wherever we go!
Read more on Learning to Breathe.
RV family travel blogs

Let's travel family
We are a full-time traveling family of 6 who started out by RV living and traveling around North America in 2017. Then, 2 years later, we put our RV into storage so that we could venture out into world traveling.
Our family travel blog, Let's Travel Family, provides tips and suggestions for great places to visit, advice about RV living can camping, and encouragement to go ahead and travel with your kids! Make those lasting memories now, don't wait for one day down the road.
Read more on Let's Travel Family.
Otis and us
Katy and her husband have three young children and love the great outdoors. Having spent the last 5 years converting their beloved campervan, Katy and her family love nothing more than to travel, explore, and create wonderful memories along the way.
Otis and Us is a family travel blog; sharing travel tips, family days out, family travel, glamping, and campervan adventures with an aim to inspire others to travel with young kids and embrace the belief that life is an adventure.
Read more on Otis and Us.
Crazy Family Adventure
We sold our house in 2014, bought an RV, and have been traveling full-time around North America ever since.
On Crazy Family Adventure we share different things you can do with kids when you visit a destination with a focus on outdoor adventure and National Parks. We love encouraging other families to get out and travel more and live life the way they want to.
Read more on Crazy Family Adventure.
General family travel blogs
Four around the world
Four Around the World are an Aussie family of four who fit in travel as often as they can. Holly and Simon have traveled to almost 30 countries and their daughters are quickly catching up, having visited 5 continents so far, with Europe being a favorite.
They love sharing family-focused travel tips, comprehensive kid-friendly itineraries, and destination guides with the goal of helping to make family travel easier for other families who want to do the same.
Read more on Four Around The World.
Thrifty Family Travels
We are Melissa, Andy, and Myla and together we run the blog Thrifty Family Travels. We have always had a passion for traveling, exploring new destinations, and making friends across the world. Between us, we have traveled to 38 different countries and don't plan on stopping anytime soon!
We've had our blog for almost 6 years now which focuses on good value family travel; not necessarily the cheapest travel but rather we show families how to spend their travel dollar wisely, without ever compromising on experience.
We advise families on what components of travel they should go budget and where they should splurge a bit as well as how to pick up bargains along the way.
Unlike other family travel bloggers, we are not nomadic. We live in Brisbane, Australia but like to get out and travel as much as we can. While we prefer to get off the beaten track and explore the more adventurous destinations, we're also just as happy to visit the typical family-friendly tourist destinations.
Most of our travels tend to be in Australia, South East Asia, and the South Pacific, but we have also traveled throughout Europe as a family as well as North and South America individually.
Read more on Thrifty Family Travels.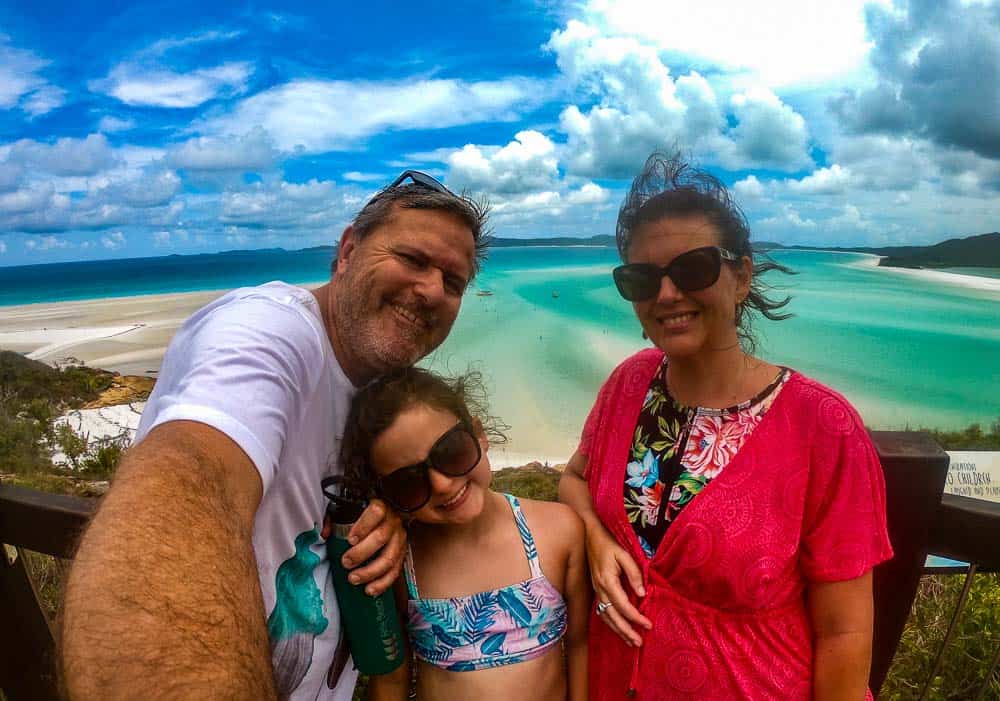 Pack More Into Life
Hi! My name is Chelsea and I am the writer and traveler behind Pack More Into Life along with my husband and young son. We are a military family traveling the US and Europe as we move around the world with my husband's career.
We put an emphasis on spending quality time together as a family by traveling to new places, taking weekend trips, and exploring the areas where we live.

In my blog, I cover over 20 countries with ideas on where to visit, which restaurants have the best food, and family-friendly activities. We hope to inspire you to wander through the beauty of Plitvice Park in Croatia, relax on a cheese farm in the Netherlands or go on a 2-night river rafting trip in California!
Read more on Pack More Into Life.
Our Family Passport
Hello, I am Kam from @ourfamilypassport! Ourfamilypassport is an award-winning travel blog that focuses on showing how Insta-worthy family travel can be doable, affordable, and accessible to nearly everyone!
I am a mom to a blended family of six and an art history professor by day and a travel blogger and creator by night. We are a crazy circus with normal jobs, school schedules, and day-to-day responsibilities, but we make sure to carve out time to explore the world together and we love showing how you can too!
We have learned from experience that family travel is one of the greatest ways to grow together as a family and to help you and your children become global citizens! We show you how to have the freedom and ability to cultivate a life of discovery and fulfillment through family travel. We are all about experiences over things!! The memories and moments together are everything and they are possible!
If you are looking for practical and relatable ways to plan, book, and pay for those Insta-worthy vacations that you have always dreamed of then pop on over and say hi! We love new friends and would be so happy to have you part of our crew!
Read more on Our Family Passport.
The learning escapes family
We are an international family of 4: Marta (mum), from Italy, Philip (dad) from Ireland, and two children, Mr. M and Little Ms. E. Living in Ireland, we love to travel and go on family holidays any time we can
Sometimes it is a short hop, like a weekend in Europe, and other times it is longer trips, up to about 3 weeks at a time. We need to follow school breaks but we always make the absolute most of them!
When we go for long, we usually do it via home swaps. We leave our home to a foreign family and, in exchange, stay in their place. It is a wonderful way to experience places like locals and we have also made great friends all over the world this way!
We have loved all our trips but we do have some favorite destinations: in Europe, we adore Rome (my hometown), Amsterdam, and Lisbon and in the US we are obsessed with National Parks and California, one of our favorite places on earth (the photo is from Joshua Tree).
We talk about all our trips on our website Learning Escapes: there, you find all our itineraries and tips for traveling as a family, based on personal trips and experiences near and far. Traveling and writing are our great passions and we show them both on the blog: we hope you enjoy it!
Read more on Learning Escapes.
No back home
Karilyn is a writer, photographer, and social influencer providing detailed information for family travelers to inspire them to get out and explore the world, even if it's only in their own city.
Karilyn and her nature-obsessed family members focus on outdoor adventures that the entire family can enjoy.
Since 2000, Karilyn has traveled to 49 countries on her own and to 32 with her son. The duo travel can be found anywhere off the beaten path like the Amazon River or closer to home in one of the US's many amazing National Parks.
Read more on No Back Home.
Flashpacking Family
Behind the scenes of the Flashpacking Family are Jacs (Mum and content creator), Ed (Dad and digital marketing expert), Ernie (wildlife enthusiast), and George (fearless explorer).
We have more than 20 years of travel experience pre-kids and have been traveling as a family since our children were babies. The boys have visited 15 countries so far and have started putting together their own bucket lists, including Australia and all its deadly animals.
Our family favorites so far are South Africa, Jordan, Iceland, and Sri Lanka but the list keeps on growing as we explore the world together. Above all, we have learned that it's important to spend quality time together, making memories as opposed to collecting things. We live a minimal life, traveling as often as time and budget allow.
Since having kids, we've also developed a better awareness of the importance of traveling sustainably and are always thinking about the boys' future when we book our travels. Through our blog, we aim to promote the benefits of family travel and inspire others to step out of their comfort zone and try something new.
Read more on Flashpacking Family.
Together we roam
Rene Young best describes herself as nobody special, together with her husband she wrangles two primary school kids aged 8 and 10 poorly and is fully entrenched in the hum-drum of mum life.
By night she's scheming of new places for the family to go and uses her inarticulate words to escape to a world where she prefers to be; hunting down secluded beaches, getting lost in a city's back alleys, and experiencing new places and faces through the eyes of my children.
Her award-winning blog is a small space on the internet that combines family and travel, her two greatest passions in hopes that it may inspire or help families to go and get out there.
Read more on Together We Roam.
Parenthood and passports
Damon and Melissa have been traveling the world with their daughter since right after she was born. From the charming streets of Europe to the dirt roads in Central America, their goal is to visit all seven continents as a family by the time their daughter turns ten years old. (Yes, even Antarctica is on their travel list!) Some of their favorite places to visit with kids include Japan, Colombia, and Scandinavia.
Founded by two award-winning journalists, Parenthood and Passports is a resource to help parents travel safely and easily with kids. They provide detailed reviews, well-researched itineraries, and tips learned through their own experience traveling the world as a family.
Although travel is their passion, Damon and Melissa haven't quit their day jobs. Instead, they love showing other ordinary, working parents how to prioritize travel, budget, save, and see the world — one or two weeks off at a time.
Read more on Parenthood and Passports.
Detail Oriented Traveler
My blog, Detail Oriented Traveler, is for busy moms who want to travel more with their kids before they move out. We feature authentic vacation ideas and practical travel planning advice.
Tonya Denmark, owner, coffee drinker, beer lover, and mom extraordinaire, and her family are based out of central Florida and are on a mission to visit all 50 states. Follow along as she shares authentic Florida destinations and unique US destinations that her teenagers love.
Read more on Detail Oriented Traveler.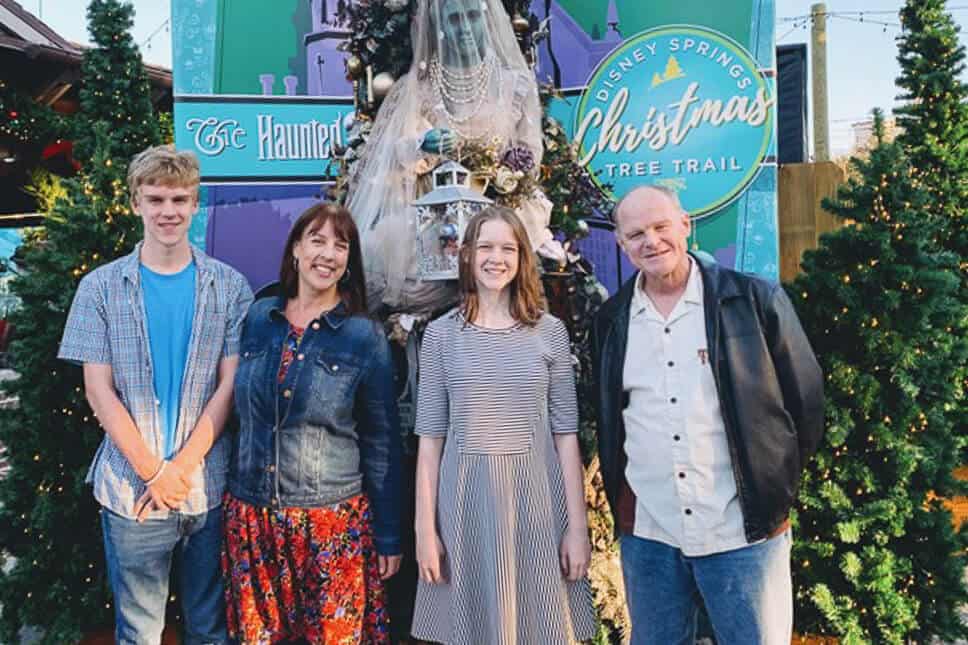 That's a wrap! We hope you gained some inspiration from our list of the 40 best family travel blogs! Want to add something? Let us know in the comments.
Other articles that might interest you
Share on Pinterest
40 amazing family travel blogs to follow in 2022